ETHICS INITIATIVE
An initiative to deliver principle-based ethics education
Daniels Fund Ethics Initiative
Collegiate Program
Overview
The Daniels Fund Ethics Initiative Collegiate Program was established by the Daniels Fund Board of Directors in 2009 as a five-year pilot. The effort was officially launched in early 2010 with eight business schools at universities in Colorado, New Mexico, Utah, and Wyoming as initial partners.

In 2019, the Daniels Fund board approved funding for the current phase of the program, which now consists of eleven partners.

The Collegiate Program drives the strengthening of principle-based ethics education throughout each participating school. The ultimate goal is to instill a high standard of ethics in our young people. To date, more than 450,000 students, faculty, and businesspeople have been reached by the Collegiate Program.
The Collegiate Program is anchored in each partner school.
Each school dean is responsible for leading the success of the program at their school and designates a campus leader to guide the effort.
The university's executive leadership (president/chancellor and provost) is committed to making principle-based ethics instruction a high priority.
Ethics education is grounded in concepts that are based on Bill Daniels' clear commitment to principle-based ethics.
The Daniels Fund Ethics Initiative Principles are fully integrated into all curriculum and activities.
The primary objective is active engagement of students – not research or publishing – and builds a solid principle-based ethical framework central to decision-making in a complex business environment.
Specific tactics to accomplish these results are proposed and enacted by each school.
Evaluation measures to determine the effectiveness of specific tactics are proposed by each school.
Results are reported each year, and annual funding is contingent on successful performance against defined expected results.
Each school demonstrates a clear plan to ensure continuity of program focus in the future.
Consortium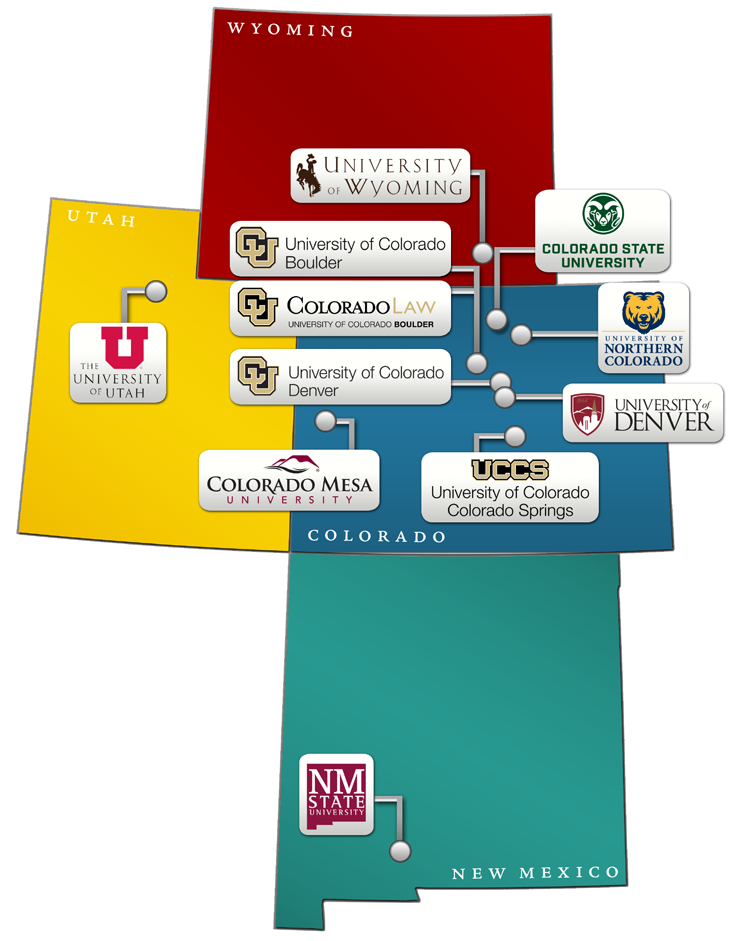 Members of the Consortium include ten business schools and one law school.
Schools participating in the Daniels Fund Ethics Initiative Collegiate Program become members of the Consortium. Working together, Consortium members leverage individual school achievements to further strengthen and expand ethics education in the region.
Each school is represented by its school dean and designated campus leader.
The Daniels Fund coordinates the activities of the Consortium.
The Consortium meets at least twice per year.
Participating schools work together to share expertise and resources such as curriculum, case studies, instructional approaches, and co-curricular activities.
Participating schools work together to define Consortium events like the Case Competition and Summit.
A private Consortium website has been developed by the Daniels Fund to share and archive resources among members.
The Consortium develops and implements measures to evaluate the effectiveness and impact of the activities of the members.
Participating schools coordinate with the Daniels Fund on communications about the Collegiate Program to ensure brand consistency and broad public awareness.
Participating Schools
Colorado Mesa University
Colorado State University
New Mexico State University
University of Colorado Boulder
University of Colorado Colorado Springs

University of Colorado Denver
University of Colorado Law School
University of Denver
University of Northern Colorado
University of Utah
University of Wyoming
For inquiries regarding the Daniels Fund Ethics Initiative Collegiate Program, please contact Bo Peretto at This email address is being protected from spambots. You need JavaScript enabled to view it..