DANIELS FUND
Honoring Bill Daniels' direction to make life better for the people
and communities of Colorado, New Mexico, Utah, and Wyoming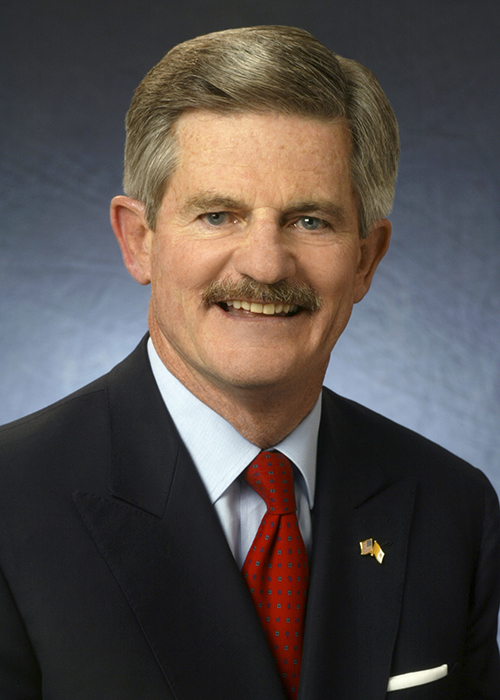 Secretary R. James Nicholson
Senior Counsel
Brownstein Hyatt Farber & Schreck

Former Secretary of Veterans Affairs
R. James "Jim" Nicholson is a partner with the law firm of Brownstein Hyatt Farber Schreck, LLP. His practice for the firm includes public policy, healthcare, international law, state and federal regulatory law, real estate, oil and gas, and alternative energy. Previously, Jim served as United States Secretary of Veterans Affairs in the cabinet of President George W. Bush. President Bush nominated Jim for this position in December 2004. Jim was unanimously confirmed by the U.S. Senate on January 26, 2005, and was sworn into office on February 1, 2005.

Secretary Nicholson was the principal advocate for veterans in the U.S. government, ensuring that they receive the care, support, recognition, and dignity due them for their service to our nation. He directed the Department of Veterans Affairs (VA) — the federal government's second largest cabinet department — and was responsible for a nationwide system of healthcare services, benefit programs, and national cemeteries for our veterans and their dependents. With a budget of $69+ billion for fiscal year 2005, the VA employs approximately 230,000 people at hundreds of medical centers, clinics, nursing homes, benefits offices, and national cemeteries throughout the country.

Previously, Jim was U.S. Ambassador to the Holy See (Vatican), a position he accepted in 2001. In Rome, he became a well-known advocate for the elevation of human dignity, with special emphasis in the areas of human trafficking, religious freedom, starvation, bio-tech food, HIV/AIDS, and international terrorism. He was knighted by Pope John Paul II in 2003 for this work as America's Ambassador to the Vatican.

Jim was born in 1938, and grew up on a tenant farm in northwest Iowa in a family of seven children. He is a 1961 graduate of the United States Military Academy at West Point. He served eight years on active duty as a paratrooper and ranger-qualified U.S. Army officer, then 22 years in the Army Reserve, retiring with the rank of Colonel. While serving in Vietnam, he earned the Bronze Star Medal, Combat Infantryman Badge, Meritorious Service Medal, Republic of Vietnam Cross of Gallantry, and two Air Medals.

Jim earned his master's degree from Columbia University, and his law degree from the University of Denver. He first practiced law in Denver, specializing in real estate, municipal finance, and zoning. In 1978, Jim founded Nicholson Enterprises, Inc., a developer of planned residential communities, and in 1987, he purchased Renaissance Homes, which became an award-winning custom home builder under his management.

In 1986, Jim was elected Committeeman from Colorado for the Republican National Committee (RNC). In 1993, he was elected Vice-Chairman, and in 1997, he was elected RNC Chairman.

Jim's wife, Suzanne, is an accomplished artist. They are the parents of three adult children.