Scholarships
College scholarships for young people of exceptional character
and non-traditional students through two distinct programs
Boundless Opportunity Scholarship
A scholarship for highly-motivated
non-traditional students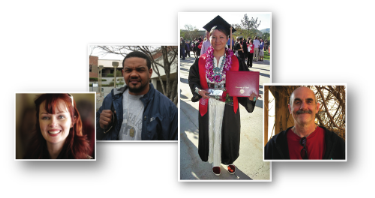 The Boundless Opportunity Scholarship® (BOS) is designed to benefit motivated non-traditional students who recognize the power of education to create a better life for themselves and their families. The program helps hardworking students invest in themselves through continued education.

The scholarship is available to non-traditional students in Colorado, New Mexico, Utah, and Wyoming who are enrolled in undergraduate degree programs at select two- and four-year colleges and universities. The Daniels Fund awards grants to select colleges or universities who then award need-based scholarships to successful student applicants.
Eligibility
To be eligible, an applicant must be a citizen or permanent resident of the United States, and a legal resident of Colorado, New Mexico, Utah, or Wyoming. Applicants must also be able to demonstrate the need for financial assistance to reach their educational goals.

Each school chooses to offer the Boundless Opportunity Scholarship to one or more of these student populations:
Adults entering or returning to college
GED recipients
Veterans entering or returning to college
Former foster care youth
Former juvenile justice youth
Students participating in ROTC on campus
Not all schools will offer Boundless Opportunity Scholarships to all student populations. Contact the financial aid office for details.

Participating schools manage all aspects of the application process and the selection of recipients. Each establishes their own criteria for defining financial need.
Additional Requirements
Boundless Opportunity Scholarship funds may be applied toward the following expenses only:
Direct Expenses

Indirect Expenses

Tuition and fees
Room and board

Books and supplies
Transportation/commuting expenses (limited to gas or public transportation)
Before scholarship funds can be disbursed, BOS recipients complete an online survey to provide information about their academic and career goals, and their plans to achieve them. This helps the Daniels Fund evaluate the success of the program and its recipients.
Applying
Students interested in applying can visit the participating schools page to determine if their college or university offers the Boundless Opportunity Scholarship.

For more information on the application process, visit the financial aid office or website of any participating school.

If you have questions or need further information about the Boundless Opportunity Scholarship, please contact us at This email address is being protected from spambots. You need JavaScript enabled to view it..