Financial Calculator
Estimate a Scholarship Amount
This calculator is designed as a tool to estimate a potential Daniels Scholarship amount and family/student responsibility. This is not a tool to determine Daniels Scholarship eligibility. Eligibility is determined within the scholarship application. The estimates are calculated using the information you enter. The actual amounts for items such as school costs, expenses, financial aid, other scholarships, and the EFC can vary at the discretion of the university, scholarship providers, or other third parties, and are likely unavailable until you are accepted to a college.

If you have an estimated Financial Aid Award from a school you are considering attending, you can model or calculate an estimate by entering figures from the Financial Aid Award. Doing so will provide you with an estimated Daniels Scholarship and family/student responsibility.

The Daniels Scholarship has a minimum award of $5,000. If a scholar's payment calculation results in a scholarship payment of less than $5,000 per academic year will have an additional award made to them to meet that minimum.

We recommend using the info icons to better understand line items. When using this tool, you should understand that the actual Daniels Scholarship amount and student responsibility amount may differ from the estimates provided, and that those results should always be taken as an estimate. Also note that EFC amounts can change each year you attend school and as a result, the scholarship and family/student responsibility will too. The Daniels Fund is not responsible for differences in estimates that can result from errors in data entry or changes in cost and/or financial aid.
Please enter annual amounts from your Cost of Attendance (COA), not term amounts.
Cost of Attendance
Total Costs:
Financial Resources
State Education Opportunity Grant (SEOG):
Colorado State Grant:
Other Grants:
Total Financial Resources:
Unmet Need:
- (less)
= (equals)
Estimated student responsibility after Daniels Fund cap (in addition to the EFC and earnings assessment):
Allowance for Books, Supplies, Personal Expenses, and Travel Costs
This includes Books & Supplies, Personal Expenses, and Travel Costs. Each school has its own methodology for estimating these expenses. However, the amounts reported by your school may be subject to limits established by the Daniels Fund.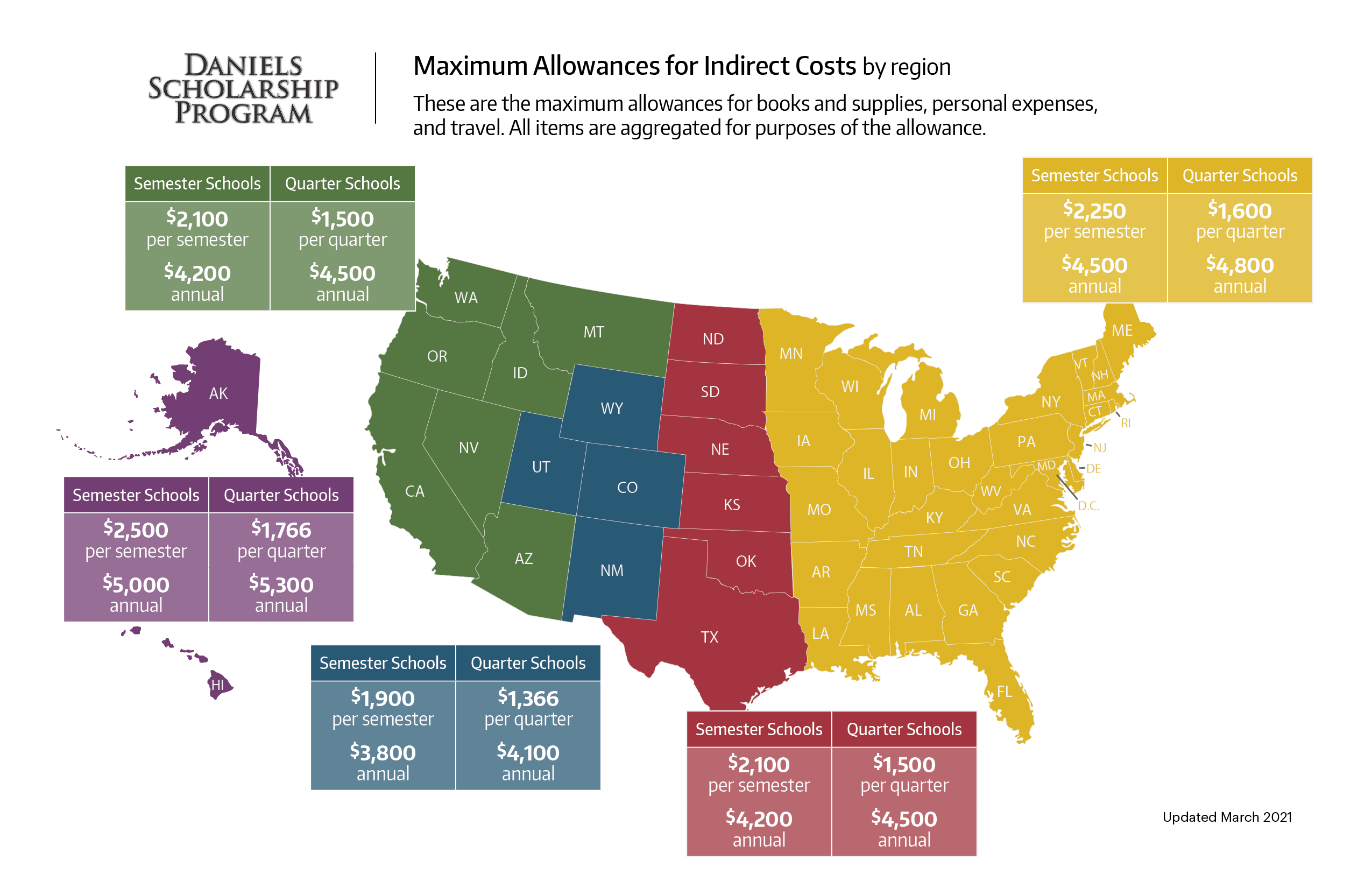 Expected Family Contribution (EFC)
The Expected Family Contribution (or "EFC") is an amount of money your family may have to contribute toward your college-related expenses. Some schools just refer to this as your EFC, while other schools also identify a "Parent Contribution" and/or a "Student Contribution" as components of the overall EFC. This amount is determined by information you provide on the FAFSA or the CSS PROFILE. You can find the EFC your school intends to use on your Financial Aid Award Notification (FAAN).
If your school uses the CSS Profile, your EFC will differ from the one on your Student Aid Report.
Daniels Fund Earnings Assessment
Daniels Scholars are strongly encouraged to work while attending college. This expectation does not come with any specific number of hours to be worked or income to be earned. The Daniels Fund believes students should develop a reasonable balance between academics, extracurricular activities, personal time, and work to achieve a successful and enjoyable college experience.
When calculating the Daniels Scholarship, any financial work-study award or income from a working in a paid position while in college are not considered. As a substitute, the Daniels Fund will include an earnings assessment that is reported on your COA, and will be considered a financial resource.
The amount assessed for the first academic year of the scholarship is $1,000 ($500 per semester or $333 per quarter). The amount assessed for each of the second, third, and fourth academic years is $2,000 ($1,000 per semester or $666 per quarter).
How the Annual Payment Cap Works
Daniels Scholarships are based on unmet need for each term within the academic year. The aggregate annual payments will not exceed $25,000. The annual payment cap is applied equally among the number of terms in the academic year depending on the calendar of the school the scholar attends ($12,500 for each semester school term and $8,333 for each quarter school term).
If a scholar's unmet need for any term is $0 (meaning financial resources exceed total estimated cost of attendance), the Daniels Fund will not make a scholarship payment on behalf of that scholar.
If a scholar's unmet need exceeds $12,500 (or $8,333 at a quarter school) for a term, the amount above that maximum will need to be met by other financial resources.
If a scholar's unmet need (which the scholarship payment pays toward) for the first term of an academic year is less than $12,500 (or $8,333 at a quarter school), the unused portion will roll forward and become available for subsequent term(s) during that academic year.
If a scholar's total unmet need for an academic year is less than $25,000, any unused portion will not roll forward and be available for the following academic year.
Student/Parent Contribution
The amount expected to be contributed by student, one, or both parents toward the entire cost of attendance. The amount is dependent on the student/family's income and assets, and is part of the EFC. Parent Contributions and Student Contributions are considered financial resources and are not covered by the Daniels Fund.
Tuition
This amount reflects the cost of credits for the classes you have registered to take at school. Some schools charge per credit and some have a flat rate based on a range of credits.
College Opportunity Fund Stipend (COF)
This is a stipend for eligible undergraduate Colorado students attending a Colorado public or participating private institution that pays a portion of in-state tuition.
Fees
This charge accompanies your tuition and includes mandatory fees for courses you are taking, bond fees, recreation center fees, etc. Not included are loan fees, orientation fees, or any optional fees.
Room & Board
When living on campus, your room and board budget represents the costs of both housing and a meal plan. When living off campus or at home, it represents the budget for rent, utilities, and food. The school determines the standard room and board budget amount for your specific living arrangement.
Pell Grant
A grant provided to qualifying students by the federal government. This amount is determined based on financial information reported by the FAFSA or PROFILE. This amount, if any, is listed as part of your financial aid award package.
Outside Scholarships
Total of all scholarships (other than those from the Daniels Fund and from your school) awarded to you. You must report these awards to your school. Examples of common scholarships:
QuestBridge: Full 4-year scholarship - at a QB matched school
Boettcher: $20,000 to Colorado schools
Dell: $20,000 annually - can defer to grad school
Coca Cola: $20,000 annually
Gates: Last dollar scholarship
Jack Kent Cooke: Up to $40,000/year for 4 years
Greenhouse Scholars: Up to $5k/yr and 'flex funding' grant up to $2k
National Merit: Flat-dollar $2,500
Hathaway Merit: Wyoming students up to $1,680 a year *
New Mexico Lottery: New Mexico students up to $4,530 a year for tuition *
Horatio Alger: $10K state scholarships, $25K National scholarships, targeted awards varying from $10K - $52K
Evans: Full tuition and housing
Starr: Comprehensive coverage at Michigan State University
Access Opportunity: Flat dollar award
* Examples are pulled from the 2020-2021 academic year
Institutional Scholarships/Aid
Total of all scholarships and grants provided to you by your school. These amounts are listed as part of your financial aid award package.
Other Financial Aid
Please do not include any loans in the financial calculator.
Important Note
This amount is in addition to the Expected Family Contribution (EFC) and the DF Earnings Assessment.