DENVER – Today, the Daniels Fund honored, five Colorado Springs Police Department officers and one administrative support associate with a prestigious honor, the Bill Daniels True Blue Award. Bill Daniels True Blue Awards are presented to deserving officers in Colorado, New Mexico, Utah, and Wyoming who go above and beyond their duties and perform selfless acts to help others in their communities. This is the first time these awards have been held in Colorado Springs. Colorado Springs Mayor John Suthers joined the Daniels Fund and the Colorado Springs Police Department (CSPD) in recognizing the honorees.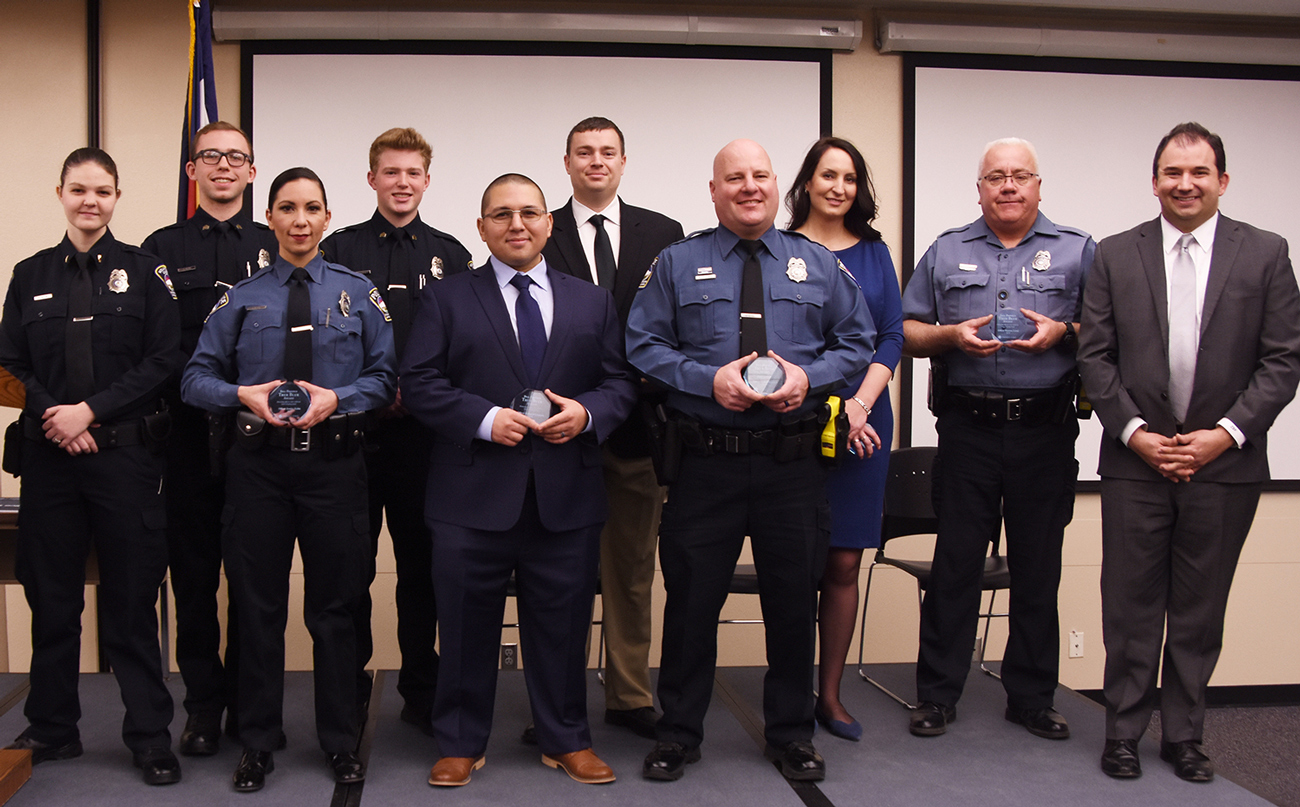 Front row: Cadet Brie Welsh , Officer Jessica Kuhn, Officer Richard Gonzalez, Officer Ezekiel Krueger, Daniels Fund Senior Vice President of Ethics & Communications Bo Peretto. Second Row: Cadet Josh Seth, Cadet Josh Berghot, Officer Malcom Wells, Assistant to the Public Information Officer Elena Courtney, Officer Warren Listul.
Officers Warren Listul, Malcolm Wells, Ezekiel Krueger, Richard Gonzalez, Jessica Kuhn, and administrative support to the Public Information Officer (PIO), Elena Courtney, were recognized for acts of compassion that go beyond the normal scope of their duties.

"We are continually impressed by how officers go above and beyond to help people in so many ways that the public rarely hears about," said Linda Childears, President & CEO of the Daniels Fund. "The Bill Daniels True Blue Award is meant to recognize these type of compassionate acts."

In honor of the award recipients, the Daniels Fund made a $2,000 donation to the Colorado Springs Police Department Cadets Program.

The Situations for Which the Honorees Were Recognized

While on a call for service, Officer Warren Listul contacted Pastor Joseph Salmoiraghi, who had just moved to Colorado Springs. He had his four-year-old son, Joshua, with him who simply wanted a police sticker. Officer Listul gave Joshua the sticker and learned that Joshua has Stage 4 kidney cancer. His father indicated that Joshua would like to be a cop for a day. What happened afterwards was amazing — Joshua became an officer for a day!

The CSPD purchased Joshua a uniform and he experienced being sworn in as an honorary CSPD officer. Joshua toured the Police Operations Center (POC) and spent time with the Tactical Enforcement Unit, K-9 Unit, Motor Unit, and Bomb Squad. The day ended with pizza in the POC Community Room with many CSPD personnel dropping by to wish Joshua congratulations. Officers continued to visit Joshua in the hospital and the Motor Unit visited him at home when he was released from the hospital and presented him with a police replica electric child's motorcycle. Officer Warren Listul, Officer Jessica Kuhn, and administrative support associate to the PIO, Elena Courtney were recognized for this effort, which involved many members of the department.

Officer Malcolm Wells and Officer Ezekiel Krueger were dispatched to the Springs Rescue Mission, Women's Shelter. An employee had called concerned for a female who had three children and nowhere to stay. The Rescue Mission was unable to take them because a Registered Sex Offender was staying there. Officers Wells and Krueger exhausted all resources trying to find a safe place for them to spend the night. Ultimately, Officer Wells and Officer Krueger transported the family to a local hotel where they paid for a hotel room out of their own pockets so the family would have a safe place to stay for the night. The officers made contact with the El Paso County Department of Human Services and the Homeless Outreach Team, who agreed to contact the family in the morning in hopes they could find more permanent housing as well as other resources.

A citizen arrived at the Sand Creek Division of the Colorado Springs Police Department and asked if a police officer could stop by his 5-year-old grandson's birthday party that afternoon. The man said his grandson, Jonah, loves police officers and it would make Jonah's day if an officer went to the party. Officer Richard Gonzalez volunteered to go to the party. However, call for service volume made it impossible for him to attend the party that day. Of his own volition, and without seeking supervisory approval, Officer Gonzalez contacted Jonah's family, apologized for being unable to attend, and scheduled a police-themed party for Jonah at the Sand Creek Substation. Officer Gonzalez purchased a cake, put on a birthday party for Jonah, and showed him and his family around the substation, police equipment, and vehicles.
About the Daniels Fund
The Daniels Fund, established by cable television pioneer Bill Daniels, is a private charitable foundation dedicated to making life better for the people of Colorado, New Mexico, Utah, and Wyoming through its grants program, scholarship program, and ethics initiative. Visit
DanielsFund.org
to learn more.
Media Contact: Bruce Wilmsen
Direct: 720.941.4429
This email address is being protected from spambots. You need JavaScript enabled to view it.