DENVER – Denver, December 20, 2018 – 104 Daniels Scholars from Colorado, New Mexico, Utah, and Wyoming converged in Denver, Colorado December 19-20 for the inaugural SHIFTCareer, a two-day event hosted by the Daniels Scholarship Program to help juniors and seniors launch their careers as they prepare to graduate from college. Students heard from experts on a variety of topics such as networking, salary negotiation, resume building, interviewing, future trends, the benefits of optimism in a workplace, and more. Scholars also participated in a mock interviews and a career fair.

The program kicked off with Career coach, Kyle Elliott, who talked with students about building resumes and communicating how skills from their past experience are transferrable to new job opportunities. This is especially important for recent graduates who may not have a long list of experience under their belts. "Often, people write a resume and then try to tweak it for a job, but you should really do it the other way around," said Elliott.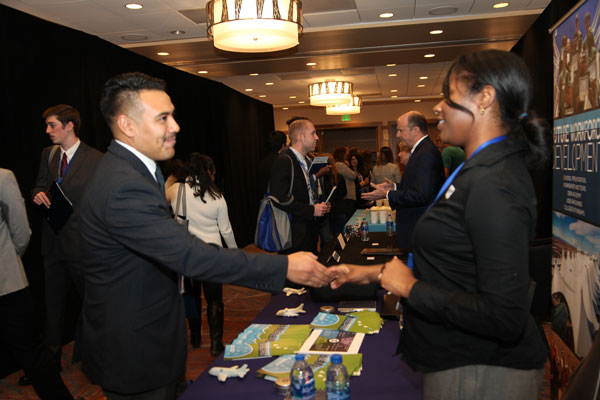 Daniels Scholars meet potential employers during the career fair at SHIFTCareer.
"A primary goal of the Daniels Scholarship Program is for our scholars to be successful, not only in college, but also in a rewarding career," said Linda Childears, president and CEO of Daniels Fund. "This is a great opportunity for scholars to gain so much career knowledge in two days that takes many of us years to learn."

The University of Colorado Career Center guided students through a number of activities that helped them understand the value of internships, what types of careers are suited to which personality types, and comparing good versus bad resumes, and more.

Recruiter Joshua Chen offered participants a look at what happens to a resume behind-the-scenes and how it is evaluated when received by a recruiter or hiring manager. He encouraged them to optimize their resumes for "skimmability" – how much can be read and absorbed in six seconds, the average amount of time a recruiter spends reviewing a resume – and to be focused and concise.

Students heard from a panel of Daniels Scholar Alumni, who shared tips that they wished someone had told them when they were starting out. At the end of the first day, scholars split up into groups to participate in mock interviews. They recorded each other's interviews on their phones, so they could see and listen to their own performance and work on any unconscious verbal or body language mannerisms.

Susan Schell, Director of the Career Management Center at the Colorado State University College of Business and owner of Business Acumen, gave students advice on when it's appropriate to negotiate salary and benefits and how to do it.

Thomas Frey, a futurist and Executive Director of the DaVinci Institute, shared predictions for the future of work and the economy for the upcoming generation, describing the impact of coming trends and technologies from artificial intelligence, to drones, to smart clothing.

The two-day program culminated with an exclusive career fair with a number of leading companies interested in hiring Daniels Scholars for jobs and internships. Participating companies included American Furniture Warehouse, Avenica, Ball Corporation, Children's Hospital, Denver International Airport, Comcast, DaVita, Denver Public Schools, FirstBank, GE Johnson Construction Company, Gusto, IMA Financial Group, Kundinger, Corder & Engle, Marin Marietta, Morgan Stanley, Otter Products, Pursuit, RK Mechanical, Teach For America, Xcel Energy, and Zayo.

"I'm excited to get to the career fair because it's a really good opportunity to meet potential employers, especially when they're already knowledgeable about what it takes to become a Daniels Scholar. They already have that information going in and so then I have more time to market other skills and show how I stand out," said Daniels Scholar, Ty Christensen. "This is very valuable as we move forward with our job search. A lot of students don't get this kind of professional development, so that's something I'm very grateful for," said Alyssa Boll. Both students are seniors at Colorado School of Mines.
About the Daniels Fund
The Daniels Fund, established by cable television pioneer Bill Daniels, is a private charitable foundation dedicated to making life better for the people of Colorado, New Mexico, Utah, and Wyoming through its grants program, scholarship program, and ethics initiative. Visit
DanielsFund.org
to learn more.
Media Contact: Bruce Wilmsen
Direct: 720.941.4429
This email address is being protected from spambots. You need JavaScript enabled to view it.