News
April 26, 2023
University of Wyoming team wins 2023 Daniels Fund Ethics Initiative Case Competition Undergraduate Track
The Daniels Fund Ethics Initiative's eleventh annual Collegiate Program Case Competition took place April 21 in Aurora, Colorado. The event included two separate competition tracks — one for undergraduate students and one for graduate students. Students from the University of Wyoming won first place in the undergraduate track for the second consecutive year and the University of Denver placed first in the graduate track.

The Case Competition exposes college students to a thought-provoking business ethics case similar to a situation they might face in their professional careers and gives them practical tools for ethical decision-making that they will be able apply in the future.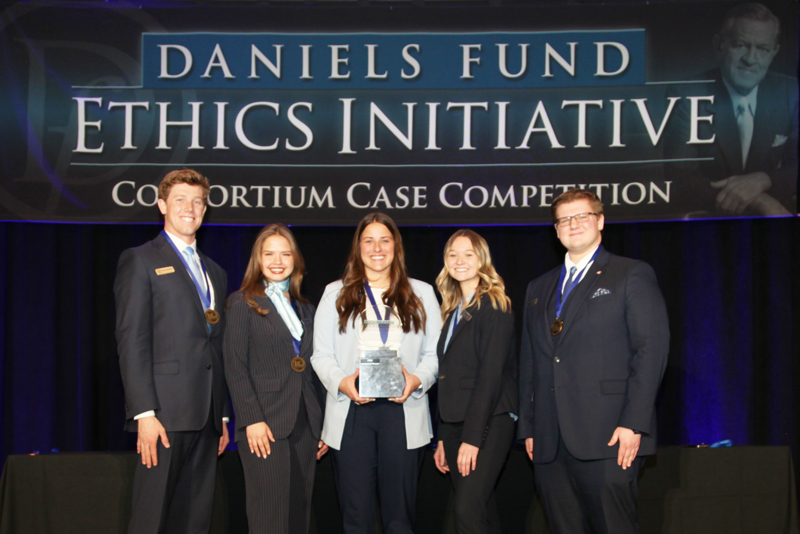 Pictured: Undergraduate winning team from the University of Wyoming (left to right): Tucker Norman, McKenna Kail, Payson Birkeland, Ellie Keeler, and Hayden Hassinger.
University of Denver placed second and Colorado State University placed third in the undergraduate track. In the graduate track, the second place team was from the University of Colorado Boulder and the third place team was from University of Colorado Denver.

Student teams received a business case based on a global supply chain company and took on the role of a consulting firm hired to identify ethical issues, which included privacy, employee monitoring, conflicts of interest, working from home versus the office, and more. Each team analyzed the ethical issues involved and presented recommendations to a panel of judges comprised of business and community leaders playing the role of the company's senior management team. Judges evaluated presentations against criteria including the Daniels Fund Ethics Initiative Principles: integrity, trust, accountability, transparency, fairness, respect, rule of law, and viability.

"For Bill Daniels, ethics were not just theoretical, but were essential for creating a sustainable and prosperous business environment," said Hanna Skandera, President & CEO of the Daniels Fund. "Bill would be proud to see these aspiring leaders applying ethical principles in the competition and building a foundation that will guide them through their careers with integrity at the forefront."

Ten undergraduate and nine graduate student teams participated in this unique competition, designed exclusively for business schools that are part of the Daniels Fund Ethics Initiative Collegiate Program from Colorado, New Mexico, Utah, and Wyoming.

The Daniels Fund Ethics Initiative Collegiate Program was established in 2010 to instill a high standard of ethics in students and strengthen principle-based ethics education in participating schools. The program consists of eleven university partners in Colorado, New Mexico, Utah, and Wyoming.
About the Daniels Fund
The Daniels Fund, established by cable television pioneer Bill Daniels, is a private charitable foundation dedicated to making life better for the people of Colorado, New Mexico, Utah, and Wyoming through its grants program, scholarship program, and ethics initiative. Visit
DanielsFund.org
to learn more.
Media Contact: Bruce Wilmsen
Direct: 720.941.4429
This email address is being protected from spambots. You need JavaScript enabled to view it.